"Fly Your Pride" – American Made Products at Affordable Prices!
 Thank you for choosing thedallasflagstore.com, an online division of Flag Systems and welcome to Flagpole Central "Your 1 stop shop for Flags and Flagpoles". With us you will find any & everything needed to take care of your flagpole needs at a discounted rate! If you find a lower price, we will match the price and exceed the quality of service you will find anywhere! All of our products are made in America & we only sell the highest quality flags, flagpoles, flagpole hardware and banners. We pride ourselves on being the tried and true flag & flagpole professionals. Flags and Flagpoles are what we do! We would never trust an individual or contractor to do the job for us. With a lifetime warranty on all aluminum flagpole shafts and a 1 year warranty on service and hardware, flagpole installations and free shipping on all flags and hardware, you wont find a better choice for your flags or flagpoles. We hope you enjoy your shopping experience with us, find everything you are looking for and stand strong for what you believe. "Fly Your Pride"!
Satisfaction Guaranteed! Lifetime Warranty Available
 When you purchase flags, flagpoles or any flagpole service from us you are guaranteed to get American Made products and the most professional & reliable service available. Our services are provided with the best techs in the business and lifetime warranty's are offered on shafts when you purchase and have us install your flagpole.
Flagpole Installation and Flagpole Services
To inquire about Flagpole Installation, Flagpole Repair or Flag Service please visit www.flagsystemsdfw.com or call 972-607-0958 & thank you for taking the time to browse through our online store. We are fully insured and bonded for your safety and ours. We offer simple repairs to complex projects at affordable prices within a timely fashion. That is what separates us from the rest and makes us the best. If you would like to speak to a flagpole professional directly please call our Dallas office at 972-607-0958 or email us: sales@flagsystemsdfw.com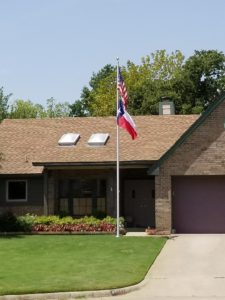 Brand New Products for 2018