Description
This Turnkey Package comes with Everything you will need in purchasing a new Flagpole and flying your Flag! It even comes with a few extras…
20'x4″x.125″ Continental Series Flagpole:
-Standard Fittings:
Gold Spun Aluminum Ball, Cast Aluminum Single Sheave Revolving Truck Assembly, Braided Nylon Halyard, Brass Flag Snaps, Cast Aluminum Cleat, Spun Aluminum Collar (Decorative Base Plate), and Corrugated Ground Sleeve Assembly. 1 Year Warranty
-Un-flagged Wind-speed: 147 MPH
Flagged Wind-speed: 109MPH
**Turnkey package comes with your choice of Flag Pole Color. Color in the drop-down menu refers to the chosen color of your Flagpole! Satin is the standard silver finish most commonly seen.
3'x5′ Sewn Nylon American Flag
3'x5′ Single Reverse Custom Flag (If you need help with artwork, we can design it for you for $25 fee)
Installation By Flag Systems' Professional Installation Team (all materials, parts, and labor included)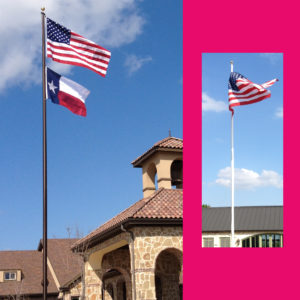 >Dark Brown Continental Flagpole Package w/ Brown Accessories (Pic'd Left)
>Satin Continental Flagpole Package w/ Standard Fittings & White Rope (Pic'd Right)